We hear a lot about 3D printing being used in industrial applications and prototyping, however, many hobbyists, DIY lovers and tinkerers use desktop FDM printers for their diverse needs. One of the popular 3D printed objects is cookie cutters. They are relatively simple to design and print in plastic even on a regular FDM 3D printer, resulting in ready-to-use cutters within hours.
Products that are printed on regular FDM machines used for versatile parts, can't be called 100% food-safe. That is purely due to the machine's printing head and extruder being exposed to particles from various filaments and not cleaned after each run. However, finished plastic parts are rigid and stable, they don't emit anything until exposed to high temperatures or excess moisture.
For PLA (more commonly used) parts the transition temperature is around 122-176°F (50-80°C). Thus, for cookie cutters, 3D printing is a suitable way of getting safe custom parts.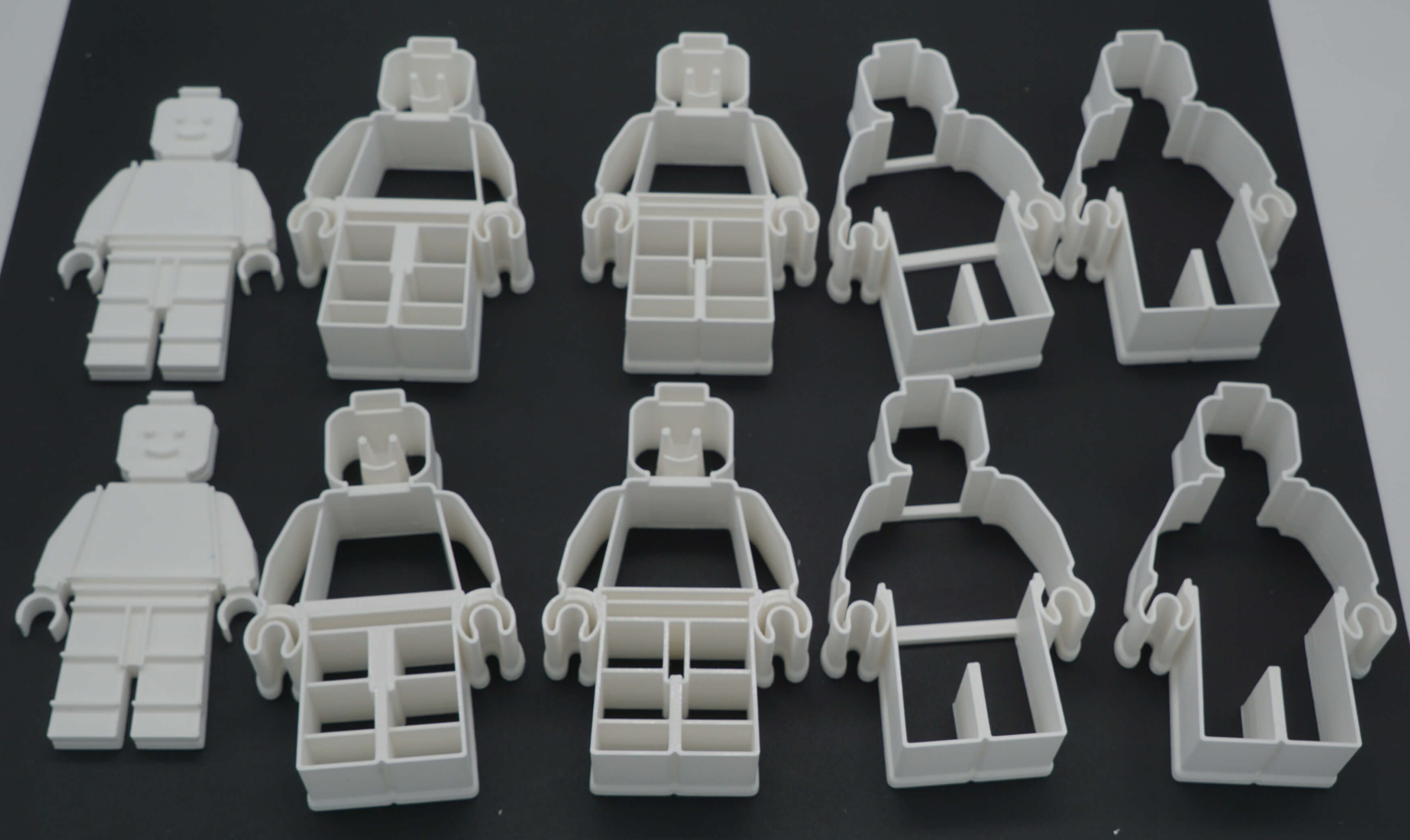 3D Prints by Randolf Leipnitz, Holger Kuznik GbR
3D printing starts with a 3D design file of the part you need. There are several ways of making your own 3D model for cutters for different skill levels.
Experienced: Fusion 360
If you are familiar with 3D modeling or feel brave enough to try 3D design software, there are many open-source and free step-by-step tutorials for creating cookie cutters. One of the most common programs for handling such modeling tasks – Fusion 360. It is relatively simple to import an image into the software and then trace it with a Spline tool. After that, you'll need to make an outline of the created contour and extend the wall created.
For cutters that also have some details inside (not just the outer shape) you will also need to extrude those ones as well, keeping them at a lower height, so they don't cut the details out but rather just emboss them onto the dough. They also require being connected to the outline and combine and that, pretty much, all. Check out more detailed instructions for working with Fusion 360 in this guide by Nikus.
If you are planning to try modeling your cutter yourself manually, we also recommend you have a quick look at FDM 3D printing tolerances and numbers for minimal details to make sure your cutter will be printable.
Medium: TinkerCAD + SVG file
For first-time designers, a simpler way of getting a DIY cookie cutter is to use .svg files or design software like Adobe Illustrator to create ones. Then, it is down to simply importing the cutter shapes, re-sizing and combining the parts in free-to-use and beginner-friendly TinkerCAD. We highly recommend a tutorial below for more details.
Newbie: customizing apps
If you aren't friendly with design software or don't want to invest a lot of time into this, no worries! There are apps that can generate a cutter model from your picture or customize preset shapes. Currently, the most popular one is CookieCAD.
3D printed cookie cutters are a popular item to experiment with. Thus, there are many diverse 3D models both free and purchasable, which are ready to use and tested by others. Check out the popular STL files libraries, and the chance is high that you'll find something close to what you need.
With a suitable model 3D printing a cookie cutter should be relatively simple. Among all filament types available, we recommend sticking to basic PLA filament as it is pain-free to use and has great detail transition. For the design itself general rules for FDM printing are:
Model design details to be larger than 1.15 mm or at least 0.5 mm;
Ensure a model's wall thickness of 1.2 mm at least;
For text, prefer thicker fonts and opt for 1 mm depth/height for it;
Remember to have the text mirrored, so it comes out correctly on the cookie;
Place the model in the file with the "cutting" side up, so it'll be printed from the flat and wide base.
Don't own a 3D printer? It's not a problem. You can use a 3D printing service to order your custom cookie cutters made and delivered. Simply drop your file into the widget, choose a quantity, select material and color for your cutter to instantly see the price.
Cover image by Marco Verch under Creative Commons 2.0 License